Nostradamus Advertising has handled a wide range of assignments for Jewish organizations, including advertising, public relations, direct mail and graphic design. We are probably best known for the many prayerbooks we have designed and typeset.
Israel Bonds
We have been writing copy for Israel Bonds (Development Corporation for Israel) for years. Here is a particularly nice series of promotional advertisements that we wrote.
Creative Director: Barry Nostradamus Sher
Copywriter: Vicki Free Presser
Design: in-house at Israel Bonds
Central Conference of American Rabbis
Since the mid-1980s, we have been designing books for the CCAR Press. Not shown are the book catalogs, posters, direct mail pieces and advertisments we created for them.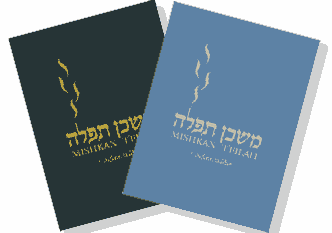 Mishkan T'filah
We handled the typesetting and production for the Reform Movement's new congregational prayerbook, Mishkan T'filah. We began work in the summer of 1999. After producing nine preliminary versions, the project finally went on press in the summer of 2006. Mishakn T'filah is now available in regular and large print format; in weekday or Shabbat or combined weekday-Shabbat editions; with transliteration or without; in a gift edition or regular binding -- 10 variations in all. The most popular editions are already in their third printing. (Read the New York Times' review.)
We did the book
and cover design.
Illustrations by
Roy Doty.
We handled production and typography (Hebrew and English) for this children's machzor. Design and illustration by Neil Waldman. Click to view the interior of the older children's section as well as the younger children's section.
Covers customs, ancient and modern, for every kind of wedding -- traditonal, modern, straight, gay, etc. We did the book and cover design.
We designed the cover and interior, and developed a unique color scheme to help children learn the order of the services. Illus. by Brad Gaber.
We did the book design, as well as
Hebrew and English typography.
Illustrations by Ruth Weisberg.
We handled production,
music engraving, and
typography in Hebrew and
English. Illustration and
amazing design are by
Devis Grebu.
We designed the interior
and did all the Hebrew
and English typography.
Cover by Brad Gaber;
interior papercut art by
Maryetta Moore.
We designed the book
and provided the
typography in
Hebrew and English.
Illustrated by
Neil Waldman.
Rabbinical Assembly
We designed and typeset
Moreh Derekh
, the rabbi's manual of the Conservative movement.
Cantors Assembly
Zamru Lo: The Next
Generation We coordinated
production of the
Conservative Movement's
new book of liturgical music.
We designed
Derech Hashatz:
The Hazzan's
Manual
Federation of Jewish Men's Clubs
We designed the cover
and book interior. Cover
photo by Jules Porter
Photographers.
We designed the cover and
interior of all three volumes in
the series.
One of the posters we
designed for Men's
Club Shabbat
We wrote and designed the FJMC
book catalog. Cover illustration by
Barry Nostradamus Sher. Copy
by Deven Black.
Scholastic
Congregation Ansche Chesed
Other Jewish Clients
Congregation Rodeph Sholom -- Annual report design
Hebrew Union College–Jewish Institute of Religion -- Typeset the Service of Investiture and Ordination in Hebrew and English.
Park Avenue Synagoguie -- Typeset the booklet for the Installation of Rabbi Elliot J. Cosgrove, Ph.D. in Hebrew and English.
Solomon Schechter School of Manhattan -- Annual Journal production
Temple Emanu-El (New York City) -- Designed prayerbook for Bicentennial Sabbath Service
Temple Emanuel at Parkchester -- Website design, design of journal cover and logo for 50th anniversary celebration
Union for Reform Judaism (formerly Union of American Hebrew Congregations) -- Art directed Reform Judaism, their national membership magazine
Union for Traditional Judaism -- Designed cover and interior of Tomeikh KaHalakhah (book of responsa), volumes 1 and 2; designed cover and interior of Cornerstone (journal), volumes 1 and 2; designed Hagahelet (newsletter). Also provided public relations services and created direct mail packages.
---
Hebrew transliteration | Bibliography for a siddur publisher
Political consulting | Web design | Book design | Other projects
Home page | About Nostradamus | Contact us
Copyright 2009, Nostradamus Advertising, a division of Advocate Enterprises, Inc.
A number of these projects would have been impossible without the help of our longtime associates Warren Wolfsohn (Hebrew typesetting) and Wendy Wolf (desktop publishing). Because the actual covers of Derekh HaShatz and Moreh Derekh are simple blind stampings, we created more interesting graphics for use on this web page. The picture of the cantor's hat comes from GotJudaica.com.